Are you a man who wants greater self-confidence, joy, purpose and passion in life? Then welcome to a website on movies where masculinity is celebrated and power and sensitivity merge in higher synthesis. This is the home of movie-loving Wild Men! Start your journey »
You're a man. You watch movies. Yet, you may be missing out on the full experience of the movies you watch. Do you want to leave the cinema inspired, wanting to make the most of your life? Do you want to stay inspired? Then you've come to the right place.
Join me in uncovering the archetypal path of growth that awaits in the world of movies. Watching movies will never be the same again. It's a promise.
Article favourite
November 14, 2009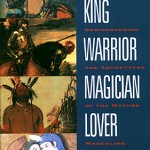 Now updated with practices at the end. One of the most popular articles on Masculinity-Movies.com is about the KWML archetypes outlined in Robert Moore and Douglas Gillette's book. Dive into the murky waters of your subconscious and discover that there are men who sleep inside you who are the stuff of legends. Now, your work is to wake them up. This article is a good starting place for that long road towards maturity.
Controversial article!
September 22, 2013
Hollywood makes a ridiculous amount of movies with presi-dential kidnappings, burning government buildings and invasion threats. What can taking a closer look at Hollywood through the eyes of depth psychology reveal?
The Magician Archetype
April 18, 2011
The Magician is here. He is an expert of hidden knowledge, holder of sacred space and transformer of psychological poison into wisdom. He is essential for every man who is to realize his calling for he is the archetype responsible for specialist knowledge! Get to know him today.
The other archetypes
Lover coming soon (video has been recorded. Currently in editing)